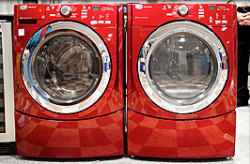 You depend on your washing machine to keep your family's clothes and linens clean and fresh. When it breaks down, you're stuck either hand-washing items in your sink, or spending hours—and tons of quarters—at the laundromat. That's why you need to call All Appliance Repair at the first sign of trouble. Our washing machine repair specialists will diagnose the problem and have your washing machine working properly again in no time.
Call or e-mail us today to schedule an appointment if your washing machine won't turn on or is exhibiting any of these other problems:
Leaking
Not spinning
Making unusual noises
Not filling or draining
Stopping mid-cycle
Not getting clothes clean
The team at All Appliance Repair is qualified to handle washing machine repairs for all major brands and models. That means whether you need Maytag washing machine repair or GE washing machine repair, we'll get your unit back in good working order. We're experienced in both front-loading and top-loading washing machines repair, and we'll take the time to thoroughly examine your machine, diagnose the problem, and install the necessary replacement parts. Whether you need a new water pump, timer, temperature switch, or even a new motor, we'll get it taken care of efficiently. You can count on our washer and dryer repair team to get the problem fixed in the most cost-effective way.
To accommodate your busy schedule, All Appliance Repair's trained washing machine technicians work seven days a week. Unlike other appliance repair companies, we respect your time and strive to be as punctual as possible. We offer some of the fastest washer/dryer repair services in the Jacksonville area—and at a price that won't break the bank. We even provide a one-year warranty on parts and a 90-day warranty on labor, so you can rest assured that quality is part of the package.
All Appliance Repair was founded in 1975 and brings you more than 40 years of total experience in the business of washer/dryer repair. We've seen plenty of appliance models come and go, and we make it a point to keep our team up to date on the latest repair issues and technologies.
As a family-owned, locally operated company, we are dedicated to providing superior washing machine repairs to the residents of our community. We're licensed and insured for your peace of mind. When you need washer and dryer repair, look no further than All Appliance Repair. Call or e-mail us today!