Many people believe that once a household appliance stops working or begins to display irksome behaviors like leaking or sparking, it's time to junk the unit and start searching for a replacement. While symptoms such as these may be a nuisance, they're not necessarily indications that your appliance has reached the end of its life span. A few simple adjustments or a replacement part could be all that is keeping you from enjoying a perfectly functional household machine. Instead of immediately choosing to exchange your current unit for a newer model, contact All Appliance Repair today and let a professional appliance repair technician have a look. We've been in the major appliance repair business for 40 years, successfully fixing problems of all magnitudes—from burnt-out motors to standard maintenance concerns. Choosing appliance repair as a solution is a great way to save money and quickly restore the full use of your kitchen and laundry appliances without a lot of hassle or cash outlay. Our family-owned company prides itself on affordable prices, fast turnaround, and expertise with all brands and models. From LG appliance repairs to Whirlpool appliance repairs and beyond, we can help you. Call or e-mail us for dependable residential appliance repairs or light commercial work.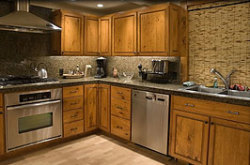 The appliance repair pros at All Appliance Repair have the experience and versatility to accurately pinpoint the source of your unit's malfunctions and provide a long-lasting solution. We're always staying abreast of the latest home appliance repair trends and are focused on providing nothing less than superior craftsmanship and efficient service. There is no such thing as an appliance performance complaint too small for our team, so if you've got any reason to suspect the need for appliance repair services, contact us today via e-mail or phone.
At All Appliance Repair, we perform a whole spectrum of appliance repair services on your most important kitchen and laundry appliances, including:
Refrigerators
Dishwashers
Washers
Dryers
Oven and stoves (gas and electric)
You can also count on us for affordable service on garbage disposals, microwaves, and much more. When you call All Appliance Repair, you can expect individualized appliance repair services from dedicated professionals who take pride in our work and have a genuine interest in helping you. As a complement to our top-quality home appliance repair services, we provide a 90-day labor warranty and one-year parts warranty, too. For your peace of mind and protection, our technicians are uniformed, carefully screened, and subject to a thorough background check. They're also prompt, professional, and experienced. Give us a call and we'll get to the bottom of your appliance repair needs right away. Whether you need repairs for your ice maker, water heater, or other major home appliance, our fast service and expertise will help keep your household running smoothly.